Call us
0145 - 2661140, 2971140
Phone : 0145 - 2661140, 2971140 Mail : saintpaulsajmer@gmail.com
Facilities Offered
About
Facilities
LABORATORY
Our labs – Physics/Chemistry/Bio/Maths/Geography are the finest riches we have in our school and they are about 25 years old.
The aim of the laboratory exercise is to give a student an insight into the significance of the physical ideas through actual manipulation of apparatus, and to put him/ her into contact with the method and instruments of physical investigation. Each exercise is designed to explain the importance of law of physics/chemistry which has already been introduced and taught in the classroom.
The lab exercise in general involves measurements, graphical representation of the data and calculation of a final result. The success of an experiment lies in the degree to which a student has :
+

Mastered the physical principles involved.

+

Understood the theory and the operation of the instruments used.

+

Realized the significance of final conclusions.
The student must know well in advance which exercise is to be done during the specific laboratory period. The laboratory instructions and relevant section of the text should be read prior to coming to lab. All the apparatus at the laboratory is entrusted to the care of the students and hence one is expected a greater responsibility. It is made sure that all the apparatus listed in the instructions are in good condition. We have always new apparatus in reserve.
-Mrs. Ritu Mishra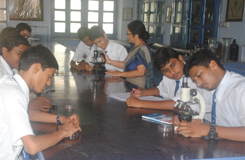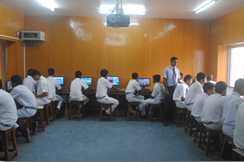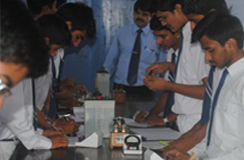 ---
LIBRARY
Library is an important part of any school. It is essential for the library to look beautiful affective and organized so that it can attract the readers to the books.
Our library is very spacious and has serene atmosphere. Our library consist approximately 15,000 books on various subjects. Besides these books there are many periodicals magazines and reference books. We have rare collection of books to refer for various competitive examinations too. Though they are very expensive, we make them available to our students Daily, weekly, monthly, bi-monthly too are made available to our students so that they are equipped with current affairs.
-Mr. Anish (Librarian)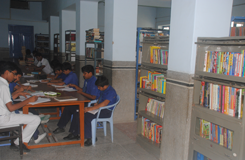 ---
GROUND
A lush green ground is developed and maintained perfect to suit for all types of games and sports. Specially hockey, football, cricket and athletics etc.

---
GENERATOR
An automatic 80 K.V. Power Generator for the backup power in case of electricity power failure. It supports all the classroom including Laboratories. It enables all the digital classrooms go efficient at work, we are unaffected with anytime power failure, darkness, heat and humidity.
---
SMART BOARDS
Smart Boards help teachers bring more collaboration and interactivity into the classroom. Because its easy to use, teachers can quickly incorporate them into their teaching to transform student learning and increase engagement. We have Smart Boards in our 15 classrooms. School management and all the teachers use the digital knowledge, as a part of their class room period, to teach the specific topics in their classes. Every teacher smonthly usage is maintained and kept as a record. It is a potent platform for the school, students and parents to interact with each other seamlessly in a secured environment.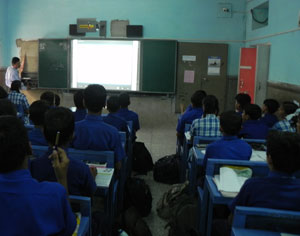 ---
GYMNASTICS
Gymnastics is a widely renowned discipline that can improve overall fitness, strength, balance and body control. It helps to improve athletic performance and spirit. Gymnastics classes also provide many additional cognitive and psychological benefits that will continue to benefit an individual throughout their life. Number of students from our school have achieved a big success in state and national level.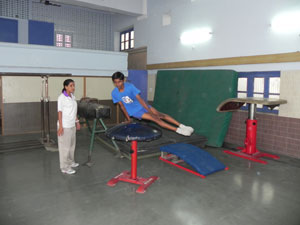 ---
MULTIPURPOSE HALL
A newly renovated multipurpose hall is available for various indoor activities such as meeting, quiz, seminar, presentation etc.. The hall contains LEDs, Projectors, sound system etc. The hall is well equipped with all sorts of technology with a push of a botton.
---
BADMINTON COURT
Badminton is now included in the school as important part of games. For training and practice we now have a badminton court. Coaches are also appointed for the proper guidance.
---
TABLE TENNIS ROOM
Table tennis, is an exciting game that can be played by two or four players. The players hit a lightweight ball back and forth using rackets. The game is usually played on a hard table divided by a net. Table tennis is good for your health - it's great for getting up a sweat and getting the heart rate up. Played at the higher levels, it's one of the fastest sports around. But you don't have to be a pro to get a good workout. Just a couple of hours a week hitting that little white ball around can do wonders for your fitness.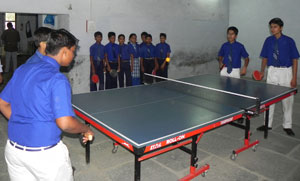 ---
ACTIVITY ROOMS AND HALL
Our school has a spacious and well equipped activity room where all the indoor activities and competitions are held. There is always an essence of festivity in the air and the room echoes with vibrant activities like Dance, Dramas, Debates, Mono acting and Quiz Competition and celebration of academic days etc. throughout the year.
---
CCTV SURVEILLANCE SYSTEM
For close surveillance of teaching learning process, CC TV with coloured cameras have been installed. This is directly monitored by the Principal and Vice Principal in their respective chambers. It has increased the enforcement of discipline and efficiency in teaching learning process and consequently it has developed love for learning quietly.