Call us
0145 - 2661140, 2971140
Phone : 0145 - 2661140, 2971140 Mail : saintpaulsajmer@gmail.com
9
School Activities
Activities
Zero period has been added in School Time Table to groom the child, so that each child can participate in activities of his/her own choice for all classes. It also includes Bharatnatiyam and French language classes.
List of activities in zero period are :
| | | | |
| --- | --- | --- | --- |
| 1. Calligraphy / Handwriting | 2. Instrumental Music | 3. Singing | 4. Band |
| 5. Art & Craft | 6. Drama | 7. Spoken English | 8. Dance |
| 9. Hockey | 10. Football | 11. Basketball | 12. Badminton |
| 13. Table Tennis | 14. Athletics | 15. Martial Arts | 16. Gymnastics |
| 17. Yoga | 18. Cricket | | |
---
Bharatnatiyam
It is an excellent form of exercise as it includes yoga based stretching, aerobic and high-endurance movement levels. It offers great benefits in developing the body of a growing child eg. improves posture, strengthens the arch of the foot and fingers and eye & neck muscles.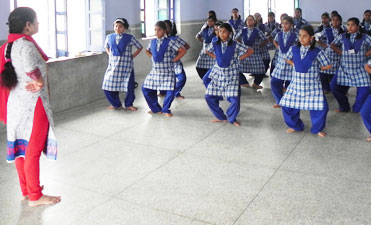 ---
Calligraphy
In the past, people learned calligraphy for attaining rank and fame but modern people still need to learn it because learning calligraphy can refine one's temperament. But which aspect of one's temperament is refined? Indeed, through copying model calligraphy, we can become a person of strong observance, intricate mind, subtlety and responsibility. Therefore we started it as a regular activity.
---
Competitions
There is no doubt education is secret key of human success and the roots of education lie on competition. A child is born without knowledge and skills, and they continuously participate in competitions every part of the life, developing skills and knowledge through a learning process. Here, in our school also, we give a flavour of competition to our children.
National Level
District Level
Inter House

Football
Basketball
Hockey
Cricket
Badminton
Table Tennis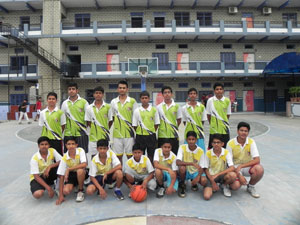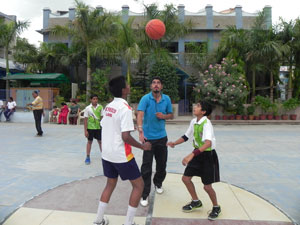 ---
Celebrations
The celebrations, customs and rituals of any institution reveal a great deal about its culture. How people link their past with their present, what behaviors are reinforced, what assumptions are at work and what is valued?
Celebrations in our School have become an integral part of joyful learning, community building and thought provoking processes. Religious festivals from across religions, national festivals and festivals related to our environment are celebrated with great enthusiasm, fervour and pride. Children are exposed to the essence of the festivals through stories, music, dance, food, discussions and a variety of hands-on activities and projects.
The festivals are not only connected to our social and environmental context but to ones inner world too. During Dusehra, it was the burning of the Ravana with a difference, we tried to challenge that part in us which is undesirable. While Christmas brought out the joy of giving and spreading joy amongst ourselves.
The fasting month of Ramzan helped us get in touch with our inner discipline and Independence Day was about questioning and revisiting the true meaning of freedom and its relevance in today's context.
Along with the enthusiasm, fun and activities of celebrations, the qualities of sensitivity, simplicity and creativity is highlighted.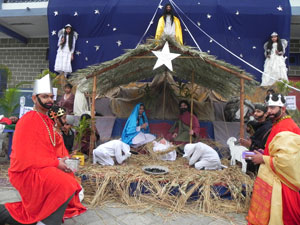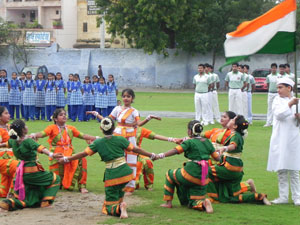 ---
Yoga
Under this club students learn the art of yoga which is the most convenient art of the present times. Here students learn to form various yoga postures which helps them in making their body fit and flexible.
---
Karate & Taekwondo
To face the fierce world, boys and girls are trained in the art of Karate & Taekwondo which enables them to be ready for self-defence in face of danger.
---
Physical Training
P.T. demonstration by students ensures to develop the awareness among the students regarding the significance of a healthy body.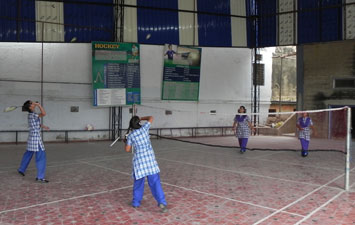 ---
Art & Craft
In this club students learn to fill colours to their imagination and give wings to their creativity. Here they learn to draw, paint and prepare various art pieces out of clay, paper Massey, plaster of Paris etc.
---
NCC
The creation of youth organization to train young boys and girls to be a better citizens in all walks of life was realized by our leaders. Hence a committee under Pandit H.N. Kunju was set up in 1946 at the behest of our first Prime Minister, Pandit Jawaharlal Nehru. The NCC came into existence on 16th July 1948 under the NCC Act, Act XXXI of 1948 under the Ministry of Defense.
On 18 Dec. 1963 St. Paul's School was added to the 2 Raj Naval Unit NCC as Junior Division and the first Associative Naval office was Mr. John Baptist and currently the third Officer is Mr. Narender Singh Rawat. The national cadet corps has allotted 100 cadets to our school . The cadets indeed are doing well and are bracing themselves for the service of our nation. They learn the great values of discipline, unity, brotherhood and national integration deeply. In the year 2004 our cadet Davendra Verma was selected for the Republic Day parade in New Delhi. Our cadets are striving hard to live up to our motto :- " UNITY AND DISCIPLINE" Without ceasing.
The National Cadet Corps (NCC) a youth organization in the university Corps which was created under the Indian Defense Act 1917 with the object to make up the shortage of the Army.
-Mr. Narendra Singh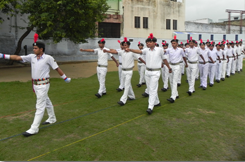 ---
Scouts and Cubs
Scout means in other words- Devotion, Sacrifice and ever ready to serve. Scout was introduced in our school on 1st July 1954. Ever since the unit is very active. With continues efforts and devotion, our scouts have proved their importance in the field of social and Educational. Campus wee attended without fail and won few a times the state awards. In the year 2006, few of our scouts were selected for the President Awards. At present 50 students have registered themselves and efficient in their commitments and devotion.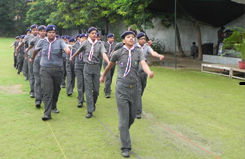 ---
NSS - NATIONAL SERVICE SCHEME
The Ministry of Education introduced the National Service Scheme(NSS) during 1969-70. It has aroused awareness of the realities of life, a better understanding and appreciation of the problems of the people among the student. NSS is thus a concrete attempt to make education which caters relevant to the needs of the society.

Aims & Obectives of NSS Development of the personality of students through community service.
1 - To work with/among people.
2 - To engage in creative and constructive social action.
3 - To enhance his/her knowledge of himself/herself and the community.
4 - To put his/her scholarship to practical use in mitigation at least some of the problems.
5 - To gain skill in the exercise of democratic leadership.
6 - To gain skills in programme development to enable him/her for self-employment.
7 - To bridge the gulf between the educated and the uneducated masses.
8 - To promote the will to serve the weaker sections of the community.
"People love your wealth not you. Your wealth is not that what you have earned, but by which you have earned. It is inside of you and that is your talent" – Swami Vivekanand
The Motto Of NSS NOT ME BUT YOU